VSA signed its commitment to achieve the Global Standard for Volunteering for Development created by the International Forum for Volunteering in Development. Download the Standard here.
The Standard will ensure more responsible and impactful volunteering and will help organisations contribute positively to the Sustainable Development Goals (SDG). It aims to improve the outcomes of volunteering for development activities, ensuring organisations that work through and with volunteers are both impactful and responsible in their practice.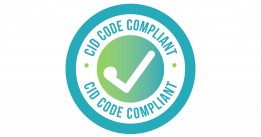 Volunteer Service Abroad is a member of the Council for International Development (CID) and is a signatory to the CID Code of Conduct.
The CID Code Compliant 'tick' signifies that we have met the standards and expectations of corporate governance, transparency, accountability, and good practice, as outlined in the CID Code.
Complaints relating to alleged breaches of the Code of Conduct by any signatory agency can be made to the CID Code of Conduct Committee. More information about the CID Code of Conduct can be obtained from VSA and from CID at: www.cid.org.nz Email: code@cid.org.nz