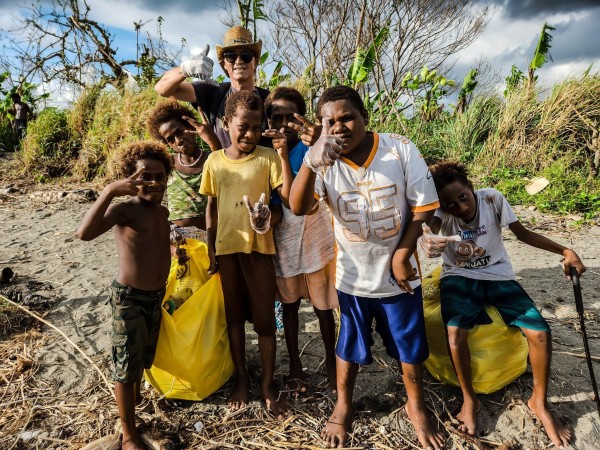 On March 1, 2023, Cyclone Judy a Cat 4 Cyclone, hit Port Vila with a vengeance. The cyclone was followed two days later (March 3) by another Cat 4 cyclone, Kevin. This was the first time in recorded history that Port Vila had experienced two cyclones in one week.
Both cyclones slammed into Port Vila packing wind gusts of over 200 kph with torrential rain. Cyclone Judy knocked out power and communications throughout most of the island of Efate and Kevin disrupted water supply as well. Over 2000 homes were destroyed and a total of more than 200,000 were affected. The Vanuatu government promptly declared a six-month national State of Emergency.
What did this mean for Wan Smolbag? Well, firstly, there was substantial physical damage to some of the buildings in the Wan Smolbag complex. This comprised largely of water ingress and roofing structure failure. As well, many large trees were felled, also causing further structural damage. Sadly, the recording studio, currently under reconstruction, lost part of its roof and flooded, which will put the already delayed the rebuild even further behind schedule.
Secondly, as Wan Smolbag is an official Evacuation Centre, this meant that there was a sudden influx of between 300 and 400 evacuees, most of whom had had their homes sustain heavy damage. These people were temporarily housed in three rooms at WSB that were undamaged.
Needless to say, normal programs and activities were disrupted in the weeks to follow. Clean up commenced the day after Cyclone Kevin had passed, and for the week following, fallen trees and debris were cleared (using only machetes and a handsaw) and stacked in piles. Tarpaulins were installed where grooves were damaged until they could be repaired.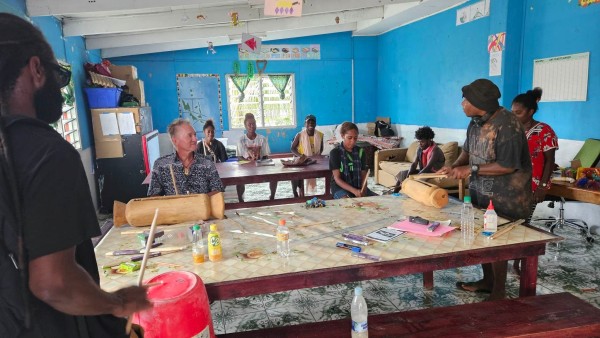 Just over a week after the cyclones, Wan Smolbag staff travelled by bus to Blacksands Beach to clean up plastic refuse that had been washed down the Tagabe River during the cyclones. They were joined by a number of local residents and, together, managed to pick up 100 bags of rubbish.
In the weeks following the cyclones, makeshift programs were put in place. These activities were dependant on whatever staff were available, with many still taking time out to repair their homes. Activities included flower making, painting, bracelet making and some impromptu drum workshops. All of the programs and activities had to take into account the lack of power. At the time of writing, four weeks after the cyclones, Wan Smolbag has still not been reconnected to the grid.
Throughout this time of hardship and adversity, the local communities displayed an incredible amount of resilience and stoicism, with smiles and good humour in abundance. It was a humbling experience working alongside these people and one that won't be forgotten.