04.09.2020 - Anita Corbett accompanied her husband Bruce
on his
assignment
as a Water Engineer with
Office of the Prime Minister
.
Anita was kind en
ough to share with us her
experience of being an accompanying partner in
Cook Islands
and the friendships she made
.
One's experience of a new culture often depends on those remarkable people who are willing to open themselves up and to share their culture and friendship in ways that makes your stay unforgettable!
One of these people was Mama Marito, as I got to know her, who is actually Lady Marito Maoate, the wife of the late Prime Minister Sir Terepai Tuamure Maoate, KBE (1 September 1934 – 9 July 2012) who was Prime Minister of the Cook Islands from 1999 to 2002.
Mama Marito patiently guided me through ei making in all its nuances. From her and others I learned so much. An 'ei' is either a head flower garland (ei katu), or a neck garland (ei kakī). 'Eia tō ou tiare Maōri ei kakī' means 'to put on your gardenia necklace'.
The Cook Island people venerate family as a cornerstone of its strength and unity, and it was through my connection with Mama Marito and her marvelously large family that I met a broad, wonderful group of people who in turn welcomed me and shared their special brand of love and warmth.
A second cornerstone of Cook Island life is their church. This is more than a gathering of worshipers and is more like a family under the leadership of God. If anyone is ever visiting the Cook Islands, I would sincerely encourage them to attend a service to experience this magic. The particular church I attended, the Cook Islands Christian Church, would host tea and a meal for visitors sponsored by the church family, to allow deeper sharing and interaction between worshipers and visitors. The genuine breaking of bread with friends never failed to leave guests unmoved.
The incredible extent of the number of experiences I was involved in was extraordinary. From births to funerals, to the welcoming of the Māori King from Aotearoa, to the inauguration of the Ariki, George Karika, to family get-togethers – the people were gracious, genuine and inclusive.
Through a series of fortuitous connections, I was also introduced to Carly Ave, the remarkable head mistress of one of the local schools, Takitumu. By sharing my time helping struggling students reach their full potential, I was immersed in a school that encouraged teaching in the early years through their native tongue: Cook Islands Māori, to progress naturally on to English once their confidence was established. I suddenly had loads of local Māori friends who were willing to cheerfully teach me their language, plus the fun of correction when I struggled to get things right!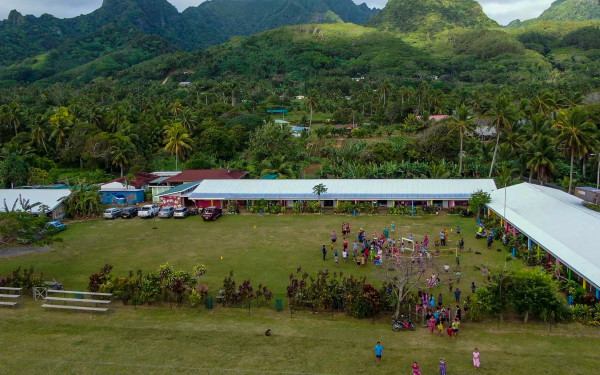 To me, each connection made was very special. There is certainly no way one can provide the depth and breadth of an experience like that without writing a tome! The experience enriched me forever – a gift from the Cook Island people to me.
I want to thank so many people; the people who taught me to weave hats, the shop assistants, dear Lafala and her family who taught me one new Māori sentence in the market every Saturday and the wonderful ladies at the Office of the Prime Minister.
It is such a shame that COVID has created a gap in connection between the Islands and Aotearoa New Zealand. I can only hope that in time this wonderful opportunity to share friendship custom and values will be reinstated.