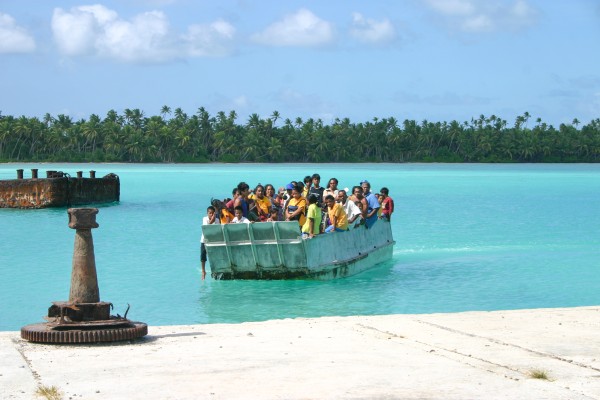 Kiribati—officially known as the Republic of Kiribati (pronounced "Ki-ri-bas"), is primarily divided among three island groups: Gilbert, Pheonix and Line Islands, which straddle the equator and date line. In 1995, the then President and Foreign Minister of Kiribati, Teburoro Tito, "bent" the international date line to unite the western and eastern parts of the island republic to the same date line. Historically, the two parts were on each side of the dateline, making the local time difference between the two groups to 23 hours. A step taken to simplify the government and business work in the region, resulted in Kiribati's Caroline Island, which, not coincidentally, has been renamed Millennium Island—to be the first region in the world to celebrate the dawn of the new millennium.
Quick Stats
Population – 133,845 – (as of 2023)


GDP- USD 1,433 (as of 2022)


Climate- Tropical rainforest climate. Min 20 C; Max 33 C


Languages- Official languages- Gilbertese (Te Kiribati) and English


Currency- Australian Dollar (AUD)


Human Development Index- 0.624

(as of 2021)
VSA's Development Plans for Kiribati
Tourism
As per 2017 data, Kiribati is one of the least visited nations in the world, with just over 5,663 total arrivals in the said year. To boost this low level of international visitation, the local services would require significant investment and training. To address this issue, the Tourism Authority of Kiribati (TAK), was established in 2019. The Government of Kiribati developed the KV20 and identified tourism and fisheries as key areas of income generation for the nation. This 20-year Vision aims to recognize and put into action the potential contribution of tourism towards economic development, provide employment opportunities to the community, retain cultural traditions, and ultimately develop a sustainable tourism industry. This initiative aims to address the core principles of environmental, socio-cultural, and economic development of Kiribati and to guide the ongoing development and management of tourism post the COVID-19 pandemic.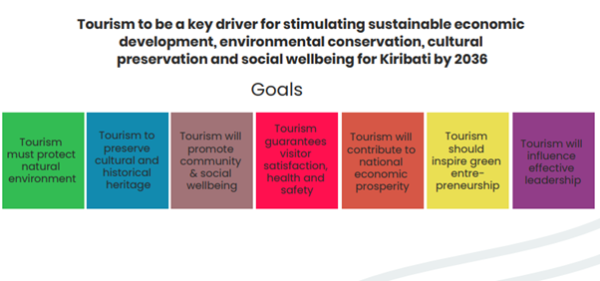 Our Tourism Partners:
Tourism Authority of Kiribati
VSA partners with the Tourism Authority of Kiribati to help assist their overall plan of promoting sustainable tourism in the country. The goal of the project is to tailor a training programme intended to upskill the frontline staff in Kiribati. As per the 2019 Kiribati International Visitor Survey, the rating of customer service is directly proportional to the rating of accommodation received. In an effort to increase the tourism experience in Kiribati's unique Mauri Way ('Mauri' means 'Hello'), which represents good etiquette, superior communication, attention to detail, proactiveness, empathy and excellent service, the programme aims to help those in the tourism industry harness their own beautiful culture and in turn uplift the overall profile of Kiribati tourism.
Focus Area – Tourism Development
Sustainable Development Goal- Sustainable Tourism
Volunteering Assignment- E-Volunteer
Economic Development
Kiribati's economic activity is dominated by the private sector which accounts for over two-thirds of its employment and over half of its economy. The economy of Kiribati is heavily reliant on foreign assistance and remittances. The absence of open market policies which is critical to the development of the private sector is still one of the major hinderances of Kiribati's overall economic growth.
58.8 Economic Freedom
(as of 2023)
Labour Force by Occupation: 15% Agriculture; 10% Industry; 75% Services
Agricultural Products: Copra, Breadfruit, Fish
Industrial Products: Fishing, Handicrafts
Our Economic Partners:
United Nations Capital Development Fund (UNCDF)
The Pacific Digital Economy Programme (PDEP) intends to expand its mandate in Kiribati by enabling financial inclusion, strengthening the regulatory framework, providing capacity building to financial institutions, and increasing access to digital financial services. Our project with UNCDF is to carry out a demand-side survey on financial services in Kiribati.
Focus Area- Business, Economic Growth, and Organisational Development
Sustainable Development Goal- Eliminate Poverty
Volunteering Assignment- E-Volunteer
Education
In 2021, the Government rolled out its free education policy to fund all students up till Year 12. There are however certain requirements to meet Government funding for the year 13 level. The cost of secondary and tertiary schools on the islands is higher, resulting in educational attainment largely being restricted to the primary level in Kiribati. Less than 20% of students receive a secondary education.
Participation of Youth in Formal & Non-Formal Education: 9.9% Female; 8.3 Male
Completion Rate of Lower Secondary Education: 89% Female; 69.6 Male
(as of 2020)
Proportion of Teachers with Minimum Required Qualifications in Secondary Education: 58.8% Female; 48.2% Male
(as of 2023)
Our Education Partners:
Childfund New Zealand
For the past 26 years, ChildFund has been helping children, youth, and families in Papua New Guinea, and more recently Kiribati, and the Solomon Islands. With the high rate of school dropouts and the limited employment and training opportunities for these youngsters, many of them are often exposed to or engaged in abuse (mostly substance abuse). ChildFund has been instrumental in providing training opportunities, including offering bridging courses to disadvantaged youth that will allow them to continue their formal education (mostly in vocational areas). Our current E-volunteer is working as the Communications and Advocacy Advisor with ChildFund New Zealand to support and advise the organization in Kiribati.
Focus Area- Business, Economic Growth, and Organisational Development
Sustainable Development Goal- Quality Education
Volunteering Assignment- E-Volunteer