While a VSA assignment can be hard going, it is also likely to be the experience of a lifetime, according to a survey of returned volunteers carried out in October 2018.
Eighty-six percent rated their assignment 'very' or 'moderately' challenging compared to just 2% who rated it as 'not challenging at all'. Frustration, loneliness and isolation, and feeling overwhelmed and stressed were ranked as the greatest challenges.
That hardly sounds like a recipe for fun yet, when asked to rate their assignment out of 10 (with 10 defined as "one of the greatest, fantastic experiences of your life"), 84% gave it between 8-10. In fact, of 90 people who found their assignment 'very challenging', nearly half rated it 10 out of 10.
So, yes, volunteering can be tough, but the rewards and sense of satisfaction can be enormous.
The VSA survey was emailed to over 900 RVs with 374 responding for a 40% completion rate. It delved into volunteers' motivations, their assignment experiences, personal and career changes on returning home, willingness to volunteer again, and ongoing contact with other volunteers and the communities where they served.
Personal changes
Contributing to a sustainable world doesn't occur only on assignment – it appears that volunteers themselves are likely to live differently on return. Nearly eight out of 10 said they gained an increased ability to work and live with limited resources as a result of their assignment.
Seventy-six percent reported they had gained increased resilience, and 69% gained increased adaptability. Not surprisingly, 84% said they learnt more about development issues.
Why volunteer?
The most popular motivation for volunteering is to live in and experience a new culture. Unlike a tourist outside looking in, a volunteer can immerse themselves in a different culture and try to understand what makes it tick.
It also offers an opportunity to 'give something back', which was the second strongest motivation, followed by the opportunity to go on an adventure, to allow for personal growth, and to pass on skills.
Replies to an open text question on motivation revealed three broad themes:
1. A change in personal circumstances. Separations, bereavements, career changes, children and grandchildren all influence a decision that the time is right:
"I had recently lost my wife and the opportunity came for a volunteer to work in the area of my expertise which was not common. So I thought I would take the opportunity, otherwise I might regret it in the future. And my late wife would have thought it was a good idea and indeed it turned out to be so."
2. Bored and looking for a challenge:
"I was already working for peanuts in the building trade in NZ so decided to go and do some work elsewhere for peanuts."
"The only difference between people who wish they lived exciting and interesting lives and those that do, is that they do."
3. An altruistic desire to give something back:
"As a Pasifika person born and bred in the Pacific I wanted to give back to the Pacific and share my experience and knowledge."
Another assignment?
More than half of all volunteers (57%) would go on another assignment. And the more recent an assignment, the more likely another stint – 72% of returnees since 2010 would go again.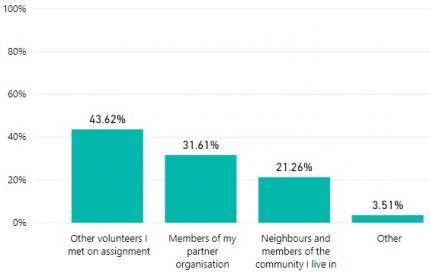 Keeping in touch
While some people ride off into the sunset post-assignment, 85% have stayed in touch either with other volunteers or with people in the countries where they volunteered.
Forty-four percent have kept in touch with other volunteers they met on assignment, 32% with people they worked alongside and 21% with people in the communities where they lived.