Have fun, raise money and change lives for the better
Fundraising can be great fun and incredibly rewarding! Not only are you contributing towards programmes that really do work, but you'll also be educating other Kiwis about the work we do and perhaps inspiring someone to apply for a VSA assignment in the future!
Fundraising doesn't have to be scary, or hard work, we don't expect you to jump 15,000ft out of a plane or climb Kilimanjaro (unless you want to!) All you have to do is something and you'll surprise yourself with how much your friends, family and colleagues will support you.
We have every faith in your fundraising abilities, so let's get you started!
First things first, you need to set up your individual online Fundraising page on everydayhero.com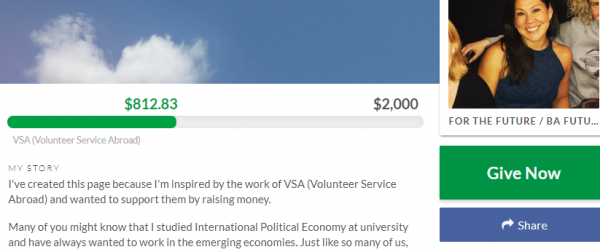 Set up your online Fundraising page
With your very own fundraising page, you can collect donations online – not just at your event! This means that people who can't attend your event can still donate. And it means that you can collect funds before and after the big day!
Visit the everydayhero site
Click on start fundraising
Personalise your page by uploading photos and adding a bit about yourself and (if you are a recently selected volunteer) the assignment you will be going on
Share the link to your page on your Facebook page, on Twitter, add it to your email signature... the more people you tell, the better
It's safe and secure and your donors are issued with a receipt immediately
Next, we suggest you start brainstorming the skills that you already have that could be used for fundraising activities…. Download this pamphlet for a few ideas to help you with your own fundraising:
Fundraising Ideas
Contact us for a fundraising pamphlet - inspiring ideas and events you can host in your local community.
Here are some key tips from two awesome volunteers, Mark and Lara, who smashed their $2,000 target!

Everydayhero site
1. Decide on key messages for your everydayhero page
2. Look at other everydayhero sites for presentation ideas (people seemed to like the maps because not many knew where Timor-Leste actually is!)
3. Develop your site (we were a bit nervous at first given we hadn't done this before but found we found it relatively simple and VSA were very helpful)
4. Make an anonymous donation of a few dollars to test out the site
5. Identify family, social and work groups to send out e-mail containing link to our everydayhero page
6. Post on Facebook with link
7. Enjoy watching the money roll in!
We probably got fewer donations than we were expecting (given the number of people on various e-mail lists) but the donations we got were quite big so that was interesting.
Leaving/Fun(d)raiser Do
We thought about doing a quiz and cinema night but in the end decided to have a combined leaving party and fundraiser at our house a couple of weeks before we departed.
Key fundraising activities were…
1. Selling old DVDs/CDs/books etc. which was ideal timing given we have cleared out the house ready for renting in the past couple of weeks.
2. Raffle of VSA items and bigger items we have cleared out of the house (blankets, Xmas basket etc.)
3. General donation pot
We were lucky with the weather and we had nearly 60 family & friends turn up…it was a great day and a great way of combining saying goodbye and raising money at the same time.
The combination of everydayhero and one event worked well for us…life is so busy getting ready to go (renting house, selling cars etc.) there is a limit to how much you can do.
Media and publicity
The local media can help make your event a great success and we are happy to support you every step of the way just contact Deborah Walker, Communications Manager.
How we can help you
We want to help you make your event a success. We can provide:
Pictures for your everydayhero page
Vista magazines and brochures for you to distribute at your fundraising event
A letter of endorsement for your fundraising activity
Videos and powerpoints to show at your event
A donation record template for donors who would like a receipt
Plastic bags for coin collections
Transferring your funds to Volunteer Service Abroad
There are two ways you can do this.
1. Transfer the funds to VSA's bank account.
Bank: Westpac Bank New Zealand Ltd
Account Number: 03-0518-0176254-00
Account Name: Volunteer Service Abroad Te Tūao Tāwāhi Inc.
Particulars: FR 'Your Name'
Email us and let us know that you have fund-raised for VSA.
2. Write a cheque to Volunteer Service Abroad and remember to include a note telling us about you and how you fundraised.
Post: PO Box 12246
Thorndon
Te Whanganui-a-Tara - Wellington 6144
Aotearoa New Zealand
Or find us at Level 2 - 77 Thorndon Quay, Te Whanganui-a-Tara - Wellington CBD.
Get in touch
We'd love to hear from you – please share your experiences and photos with us. Email us on fundraising@vsa.org.nz or call us on 0800 872 8646.