Half of Kiwis have no will according to Te Ara Ahunga Ora Retirement Commission - click here

We have partnered with Safewill to offer our supporters a discounted online will writing service supported by Safewill Legal, their dedicated Estate Law practice, who review each will written through the Safewill Platform.
Online wills are a new digital application of long standing legal infrastructure, precedent templates guide you through an incredibly easy 3 step process that takes about 20 minutes to complete, enabling you to create a will or update your existing will. Safewills have reviewed over 100,000 wills on their platform since they launched in 2018.
By entering through our Safewill Platform you will be entitled to a 50% discount off the $160 price. Click on this link.
You will have the opportunity to support the work of VSA NZ by including a gift to VSA NZ in your Will if you choose to.
For more information read these FAQS.
Remembering VSA with a gift in your Will
Sir Edmund Hillary, our founding President, believed that people working together in partnership could achieve great things.
For that, we need you.
Thank you, from our whānau to yours, for considering supporting our vision of developing a better future together.
With a gift in your Will to VSA your generosity will be felt for generations to come.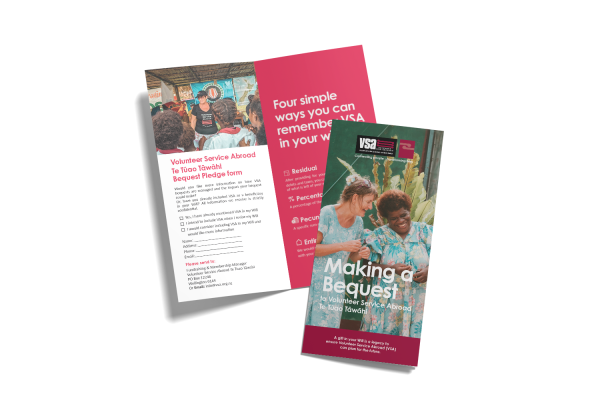 We have more information available in our bequest pack.
There are several ways you can choose to leave a gift to VSA. The types of Gifts you might consider leaving in your Will include;
A Pecuniary gift - specified cash sum of money
A Residue gift - the remainder of your estate after specific gifts to family and loved ones have been made
A Percentage gift - a percentage of the value of your estate
The Gift of an Asset which could include real estate, shares, bonds or other articles of value
Your Entire Estate - we would recommend discussing this with your legal adviser
If you would like to request a bequest pack or have questions about leaving a gift in your Will to VSA, then please get in touch with the fundraising team at info@vsa.org.nz or phone 04 472 5759.