­This
year marked the important milestone of reaching 60 years of the Samoan volunteering programme—a vital pillar for VSA!

60 years of volunteering in Samoa was celebrated on 28 July 2023, as part of the Volunteer Service Abroad Te Tūao Tāwahi's (VSA) celebration of over 350 VSA volunteers who have worked alongside our partners since the start of our Samoan programme in 1963.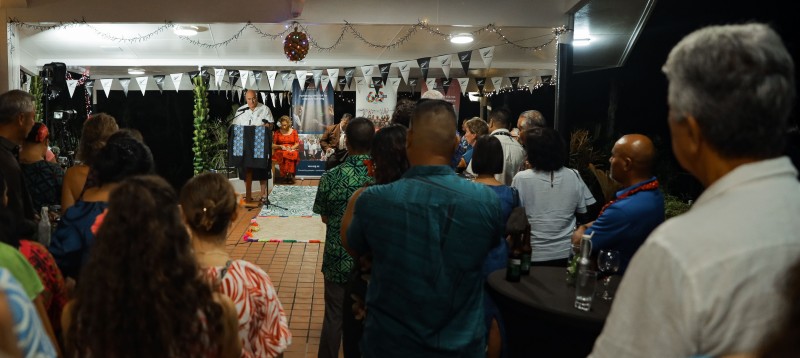 The event was a massive success, attended by distinguished guests from both countries, including but not limited to The Acting Prime Minister of Samoa Hon Tuala Tevaga Ponifasio, New Zealand's High Commissioner to Samoa HE Dr Trevor Matheson, Council Chair Dr Simon Mark and VSA, Deputy CEO of VSA Michelle Evans, and Operations Manager at VSA Nigel Dixon, to name a few.
The guests joined our Country Programme Manager Lagi Natanielu and our Country Programme Coordinator Miriama Levasa-Otto, to celebrate the work we've done so far.
60 years ago, what started as volunteering assignments to teach Samoan children, has now progressed into offering support and sharing knowledge among educators and key policymakers of Samoa to achieve a long-lasting change in the country. VSA, with the support of the New Zealand and Samoan governments, aims to continue assisting Samoa in achieving its sustainable goals.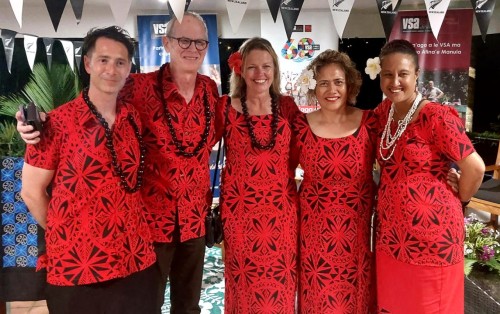 Michelle Evans invited the dignitaries by a speech with a whakatauki—an indigenous Māori proverb we use to describe our work, "'By working together we can all achieve our goals' – this applies to us as a VSA team, with our partners and for the communities we are part of in the countries we work in. We are one group who are dedicated to thriving communities".
Corroborating Michelle's statement, the Acting PM of Samoa—Hon Tuala Tevaga Ponifasio echoed similar sentiments, "I'm pleased to say that this has been a two-way mutually beneficial arrangement. The volunteer initiatives undertaken reflect a mutually beneficial partnership between volunteer and partner organisations, as they return home with a wealth of new experiences cultivated through meaningful cross-cultural exchanges and lifelong memories shared with the local communities".
As we celebrate our 60 years in Samoa, here's a quick look at some of the prominent tasks undertaken by our recent volunteers in Samoa:
Samoa Recycling and Waste Management Association (SRWMA)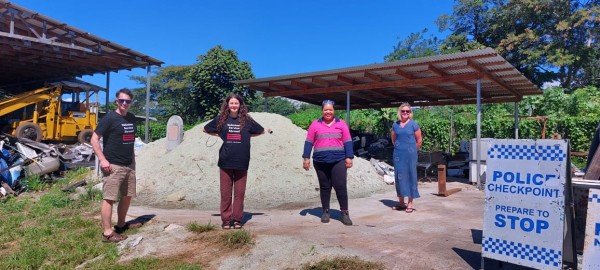 SRWMA is committed to efficient waste management with a goal to benefit the environment and to empower its islands towards sustainable recycling practices. VSA UniVol, Annalise O'Sullivan-Moffat, is volunteering with SRWMA as a Grant and Proposal Writer for the organisation. Since her arrival, Annalise has assisted SRWMA with multiple funding applications, organised events, and built a website for the organisation, which was successfully launched a week ago. To recognize the valuable work done in partnership and to celebrate this achievement, Michelle Evans and Nigel Dixon accompanied Lagi Natanielu to visit SRWMA and Annalise. We congratulate Annalise for her great mahi, and we continue to celebrate the great partnerships we have in Samoa this 60th!
Savai'i Koko
Savai'i Koko is an agribusiness and exporter based in Asau, Savai'i. They have a farm that produces Cocoa, Coco. Since 2014, Savai'i Koko has been partnering with J H Whittaker's & Sons chocolate company and supplies them with over 30 tons of dried cocoa beans per year. Our team, Michelle, Nigel, and Lagi visited the factory with the goal of understanding their needs and requirements and how VSA can help assist revitalize the Savai'i cocoa industry and support smallholder farmers.
National Rugby League (NRL)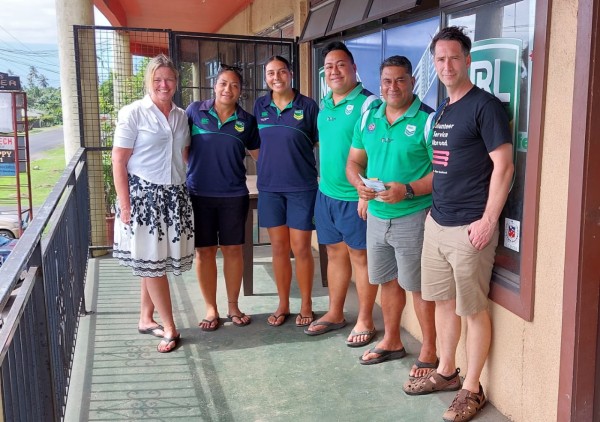 NRL delivers Rugby League activities in Samoa with a focus on imparting education and honing the skills of the Samoan youth for the sport. VSA UniVol, Eileen Dixon, works with NRL in Samoa, assisting them with their daily activities, and helping them build their team's capacity with her knowledge gained through university and past sporting experiences. To celebrate VSAs very first year of partnership with NRL Samoa, Michelle, Nigel, and Lagi visited the partner organisation with the goal to provide another VSA volunteer in the coming year so the team can continue to build and improve the program.
Samoa Women's Association of Growers (SWAG)
SWAG provides women growers and farmers of Samoa with opportunities for business, networking, training, and education. They help the women to access local and international markets to provide an environment for socialising in a supportive, open atmosphere, allowing for sharing of traditional and environmentally safe solutions to modern-day agricultural needs. VSA volunteer, Moumita Das Roy, is working alongside the organisation to help them with online marketing strategies by providing one-on-one consultations with their members and by organising a workshop for the same. As an outcome of the workshop, SWAG has created an online Support Group on Facebook. This new community of support, where members can reach out to each other for guidance and encouragement, will help increase social media engagement and further business promotion.
Bringing volunteers to Samoa is vital to VSAs goal, and we have witnessed great results on our projects. To date, there have been close to 350 volunteers who have worked diligently with our partner organisations throughout Samoa, engaging in diverse fields ranging from education, tourism, agriculture and fisheries, environmental sustainability, health, community, policy review, and youth engagement to name a few.
As we celebrate these achievements, we also take a moment to recognise the challenges faced. The outbreak of the COVID-19 pandemic in 2019 and the subsequent lockdowns, brought about unprecedented challenges to the volunteering landscape. Reflecting on this time, the Acting PM of Samoa, Hon Tuala Tevaga Ponifasio, had this to say, "E-volunteers working remotely from New Zealand were able to continue to engage actively with government ministries and non-governmental organisations in the agriculture and fisheries, tourism, and education sectors by sharing crucial technical knowledge and providing ongoing advisory support to local staff. Furthermore, many of these VSA e-volunteers were able to return to Samoa when borders opened, to resume and complete their assignments. Over time, we have since witnessed the return of all, other volunteers from various volunteering agencies to our shores".
Here's a quick look at some of the prominent tasks undertaken by our recent e-volunteers in Samoa beyond COVID-19:
Ministry of Education Sports and Culture (MESC)
The Ministry provides education services across all levels of education in Samoa. It mandates the development of policies including regional and international policies to address social and welfare issues, curriculum, assessment, and capacity building for teachers. The goal is to build better systems and better schools to improve student achievement to help establish a knowledgeable economy in line with Samoa's Development Strategy (SDS). VSA volunteer, Judith Guy, who started her first volunteering assignment in Samoa as a teacher in 1976, is now e-volunteering with MESC. She is currently reviewing MESCs policies related to the science curriculum, designing a survey to capture key ideas from stakeholder consultation, and formulating a revised policy for the MESC National Science Education Policy—all of which will have a significant impact that is in line with Samoa's overall Development Strategy.
Apia Export Fish Packers (AEFP)
AEFP is in the core business of commercial fishing with a vision to supply high-quality fresh fish sourced from Samoa's Exclusive Economic Zone (EEZ) for export and local markets. The company has also expanded to include the supply of frozen fish to overseas canneries and the supply of fresh fish to the local people in Samoa. VSAs e-volunteer, Nitesh, worked with the AEFP to improve their current Food and Safety Hazard Analysis Critical Control Point (HACCP) plans to meet the regional standards of Food and Drugs Administration (FDA) and Samoa Fisheries Regulation. His work helped identify gaps in the current systems that need strengthening, while also proposing necessary changes that comply with standards to maximise productivity.
Ministry of Agriculture & Fisheries (MAF)
MAF has mandated an Agriculture Sector Plan (ASP) to achieve the goal of increased food, nutrition, and income security in Samoa. The aim of the plan is to strengthen government partnerships, particularly with the private sector, Non-Government Organisations (NGOs), and development partners, to leverage agriculture's potential to promote enhanced health, prosperity, job creation, and resilience. VSAs e-volunteer, Jacqueline Neave, is currently working with MAF to conduct robust qualitative Import Risk Analyses (IRA) for import requests for animals, developing Standard Operating Procedures (SOP) for IRA formulation, and developing Import Health Standards (IHS) based on IRA, among other vital duties.
Over the past 61 years, VSA has connected over 4000 volunteers in the Pacific and beyond and hundreds of organisations and individuals have strong ties with VSA. We aim for our work continues to have a positive impact on the community, people in general, and the nation of Samoa. We have a lot to do, but today we celebrate what we have achieved in Samoa thus far!