12.08.2020 -
For
International Youth Day
we
are
delighted to kōrero with our returned tūao Lewis Johnson who volunteered as
a
Research Assistant with the
Honiara City Council
(HCC).
Lewis's assignment was based around youth development for, in the Women, Youth and Sports Division in the Council. A major part of his role was to help develop a Youth Development Policy for HCC. Lewis was a part of our UniVol programme and returned to Aotearoa in December 2019.
Read how Lewis built meaningful friendships with the local hapori and what it is like to work with young people in Solomon Islands.
Tēnā rawa atu koe Lewis on your fantastic mahi!
What is the Youth Policy for HCC you built and how it empowered the local youth (or other ages)?
In a nutshell, the HCC Youth Development Policy 2020-2024 is the first policy document since the Solomon Island Government's landmark National Youth Policy 2017-2030.
Essentially the Policy aims to build on the research conducted on a national level while honing the context further to a provincial-specific level.
Honiara is quite unique in the Solomon Islands being the only city, so the challenges experienced by young people there are quite different to those in rural communities. The Policy empowers youth as they had a distinct role in helping to create it with community outreach programs and research. The Policy is a first port of call for anyone hoping to conduct youth empowerment activities in the city. As the City Council, HCC has a responsibility to ensure the work happening within their boundaries aligns with both Provincial and National aims and goals.
What was a normal day like on your assignment?
A normal day for me consisted of a short 10 minutes walk to work, far more scenic than what I would be getting back in Te Whanganui-a-Tara Wellington passing tropical fruit trees along the way alongside chickens, tropical birds, geckos and even a snake on occasion. My assignment was based at an indoor sports hall, the home of the Honiara City Council's Youth Sport and Women's division. Every morning the national futsal team would be in the sports hall training, with avid fans in attendance to watch their impressive skills at work.
For me, my usual work day would be working on youth projects, whether analysing qualitative or quantitative data collected in the field, going to meetings around the city, travelling to community outreach events, learning about the lives of my amazing co-workers, helping with Council activities or hanging out and tok tok staka stori (talk heaps of yarns) with the youth volunteers in the Youth Hub (the City Council's community youth group centre).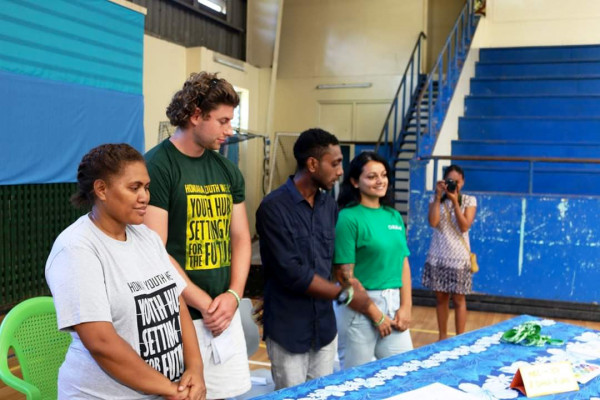 Can you describe the friendships you built with people in the local hapori?
The friendships I developed with young people in Honiara were strong. Initially, I felt like a total outsider as I couldn't speak SI Pijin and many young people in the city are seke (frightened) to speak to those who cannot understand it.
After becoming fluent, my relationships with young people and my patient co-worker became significantly tighter. I also made a conscious effort to engage in activities that were not in the office, such as running errands with young people for city council staff members, cleaning up rubbish around the city, playing around outside and LOTS of talking which was great for me as I love a good yarn.
By the end of the assignment I had made so many connections to young people in Honiara's outer informal settlements as a result of attending youth events, outreach programs and the research project I was helping the Council to work on.
What did you learn?
I worked primarily with young people, which in the Solomon's are people between the ages of 15-34, so my interaction style needed to be flexible depending on who I was talking to.
Most young people tend to experience similar development issues, such as lack of schooling, minimal job opportunities, not enough ways to be active, and not enough access to reliable food and water. I learned how, despite the many challenges these young people face, their level of appreciation for what they did have, their love for their family and friends and their faith is far deeper than what I expected.
In fact, I learnt far more than could be written down in a single paragraph, some of which I still battle to convert to words.
Overall, the Solomon attitude to living is quite unique, their infectious happiness and deep appreciation for their friends, family and faith in their life is like nothing I had come across.
I also learned how to slow down, how to properly relax, and appreciate the fundamentals of living without having to rush through and get to the end of the day. This was incredibly challenging for both my co-workers and me in the beginning, but once I settled down into my Solomon groove I found it increasingly more natural to embody.
Lastly, arguably the most important thing I began learning was some of the cultural history and customs of the ethnic tribal groups. I developed a deep curiosity in the wide array of indigenous culture in the Islands, and to my surprise so many people were open to teaching me about it.
One of the happiest and eye-opening experiences of my assignment and life, was travelling to a remote village in a neighboring province for a funeral. I stayed with a colleague's relatives for a week. I learnt so much about their historical customs, beliefs and way of life. However, as interethnic marriage between different groups increases, combined with an increased weighting on western education, the concentration of cultural knowledge might dilute through time. Learning small snippets of cultural knowledge was a privilege for me and I will endeavor to learn more throughout my life.
What are the three achievements you are most proud of?
Just being a friend to as many people as I could

Finishing the Youth Development Policy

Learning Pijin
Who inspired you?
The number of people who inspired me is overwhelming, however my team on the youth desk (Mary Tuhaika and Eddien Delay) were who I spent the most time with and became some of my closest friends in the city.
Their passion for youth development in Honiara is incredibly strong which helped me considerably when things got tough. Their ability to look out for youth that may miss the support system is amazing, despite often making their workload larger in the process. The young people in the Youth Hub were equally as inspiring, their positivity was invigorating and they were always able to help, no matter the task. They also had a huge role in helping me learn Pijin, something I will forever be grateful for.
The work of the New Zealand High Commission also needs commendation. The amount of work their staff do to assist youth development in the city is massive. It makes me feel really proud as a Kiwi having them represent our nation and do amazing and much needed work in the Pacific.
What would you like to say to our followers, donors and supporters?
Thank you for all your support as without you, VSA probably would not be what it is today. As a result of my small assignment, VSA has helped create a document that will shape youth development in the city for years to come.
Related Material