18.05.2020 - Frith
Walker had been registered with VSA for a few years when she saw an assignment for a
Clinical Management Adviser for
the
National Eye Centre
in Port Vila, Vanuatu.
With a new building and new systems, the National Eye Centre had asked for a VSA volunteer to help support its team work more efficiently in the new clinic, and to manage the clinic effectively and efficiently. The National Eye Centre's aim is to increase Vanuatu's eye surgery capacity from 200 to 800 per year.
"I enjoy travelling and had a real sense of wanting to give back in the health area which has given me a very rich career," said Frith. "I'd just left a role and hadn't really decided on the "where to from here", and the Clinical Management Adviser role popped up literally as I finished work and I thought, well here goes."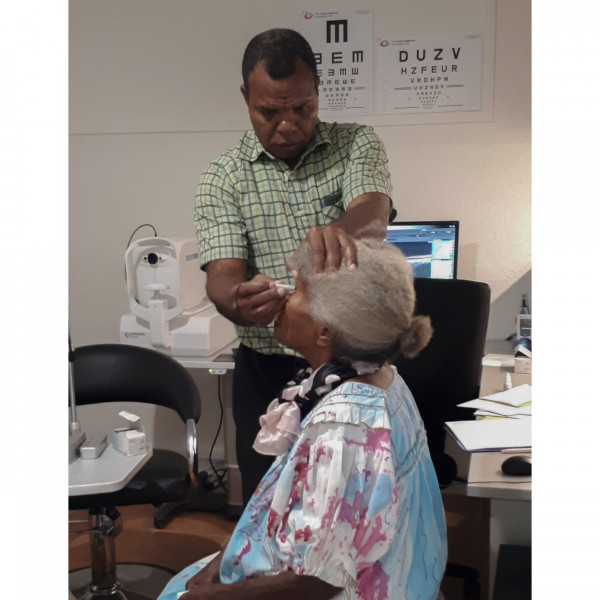 Frith's assignment (which she started in June 2019) was created in partnership with, and was supported by, The Fred Hollows Foundation NZ. Like VSA, the Foundation ensures that building local skills is at the heart of its work. The Foundation trains Pacific eye care professionals, and provides quality eye care, with the aim of eliminating avoidable blindness throughout the Pacific.
The National Eye Centre is also directly supported by The Fred Hollows Foundation NZ. The Foundation, aware of the urgent need for eye care services in Vanuatu, launched the country's first national eye care programme and opened the National Eye Centre in Port Vila in 2004. In 2018 the Foundation began a $2.5 million upgrade and expansion of the National Eye Centre, which was officially opened in February 2019.
"The National Eye Centre is widely respected by the community and very well used," said Frith. "When I walked through town on my way home in the evenings I would often be greeted by a patient or be introduced to a family member as the 'New Zealand volunteer at the National Eye Centre'.
"A usual day at started at 8am. There really are no appointments – people just turn up and morning seems to suit everyone best! So mornings are really busy and afternoons tend to be more settled."
The range of symptoms and ages vary widely, from acute injuries to people needing eye checks for glasses.
"The Fred Hollows Foundation NZ is still very involved in supporting the National Eye Centre," says Frith. "At times I was in almost daily contact with one or another member of the Auckland team. The relationship with the nurses in the National Eye Centre and the Foundation is also very close, as the nurses trained in Fiji at the Pacific Eye Institute and know many of the staff from the New Zealand office as well. The Foundation also ensures an ongoing commitment to quality and training.
"One great example of their support was when they supplied some ongoing funding for cell phones I purchased with donations for the clinic so that the National Eye Centre could keep in touch with patients."
Now returned from Vanuatu, Frith describes her time in the country simply by saying: "Being immersed in another culture with so much to learn is what really makes my heart sing."