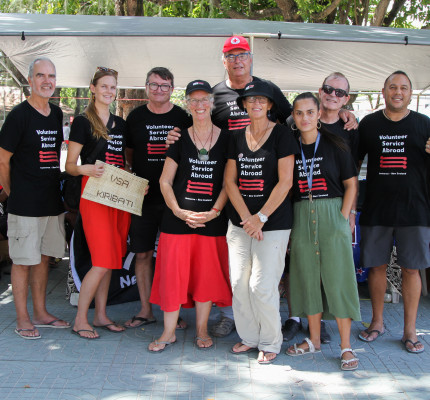 Operations Support Coordinator
Volunteer Service Abroad (VSA) sends skilled Kiwis to the Pacific and beyond to share their experience and knowledge directly with local people and communities. Working together with our regional neighbours, our volunteers create new opportunities for people that will continue to ripple across communities for generations to come.
Operations Support Coordinator
We're looking for an experienced professional administrator who thrives on completing tasks to a high standard, achieving deadlines and providing great customer service. This is a full-time permanent role working in our friendly Wellington office.
What you'll be doing:
As a member of VSA's Volunteer and Employee Engagement (VEE) team, you'll be a key contact point for our volunteers when they're preparing to depart to, or return from, assignments across the Pacific. Your focus will be on ensuring all aspects of the "volunteer journey" are well supported. This includes organising the deployment processes and pre-departure logistics for individual volunteers (such as briefing programme attendance, and overseeing customs documentation, travel arrangements and reimbursements), coordinating arrangements for their return to New Zealand on completion of assignment as well as coordinating the assignment administration for e-volunteers working from Aotearoa New Zealand. You'll play a key role in ensuring our volunteer-related processes run smoothly and are reviewed regularly for improvements. Working with our overseas-based Programme Managers and relevant colleagues in Wellington, you'll also ensure that Assignment Descriptions for volunteer placements are clear and accurate, and you'll liaise with in-country staff and volunteers on administrative issues to ensure the volunteer experience is the best it can be.
Our ideal candidate will have:
Proven administrative, financial and organisational skills
Experience in managing high volumes of administrative and logistical work
A strong customer service focus
A highly process-driven approach with an eye for process improvements
Computer literacy including database use and electronic record keeping (experience in using Dynamics365 is a significant advantage)
Highly effective interpersonal skills including the ability to work well with people from diverse cultural and social backgrounds
Strong communications skills including written correspondence and oral presentations
A flexible "can do" attitude.
APPLY NOW by emailing your CV and a cover letter to hr@vsa.org.nz before 9am Monday 7 December 2020. Please include "Operations Support Coordinator" in the subject line of your email.
NOTE: To be eligible to apply you must have the legal right to live and work in New Zealand.