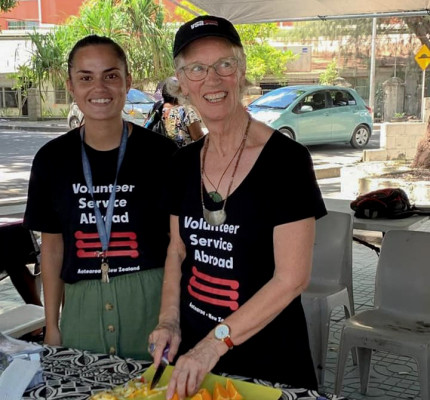 Business Development Specialist
Volunteer Service Abroad (VSA) sends skilled Kiwis to the Pacific and beyond to share their experience and knowledge directly with local people and communities. Working together with our regional neighbours, our volunteers create new opportunities for people that will continue to ripple across communities for generations to come.
Business Development Specialist
Wellington based
Coveted NGO business development opportunity
Innovate and create!
VSA manages a range of development programmes in partnership with in-country partners, regional and UN partners, and New Zealand partners, including NGOs, as well as the private and public sectors. The Business Development Specialist is one of the leaders within the Stakeholder Engagement Team, which has an integrated approach to development and works closely with all teams across VSA.

The role has responsibility for the identification, design and development of successful partnerships with mainly NZ based businesses, public, academic and NGO sectors that contribute to the successful achievement of VSA's mission. The drivers for these partnerships focus on; accessing skilled New Zealanders from diverse backgrounds to participate in volunteering for development opportunities across the Pacific, securing income and in-kind support to expand the work of VSA, and building connections with Maori and Pasifika communities in New Zealand.

This is a wonderful opportunity to bring your imagination, networks, connections, experience and innovation into play for the goal of supporting countries across the Pacific to build their own capacity and sustainability.

We're looking for a special someone who has:
proven business development/partnership brokering skills
strategic and conceptual thinking skills
great networks including experience of engaging with Maori and Pasifika organisations and communities
confidence to represent VSA in speaking to a range of audiences
a wide range of business skills including; project management, time management, strong written, oral and spoken communications skills, strong computer literacy
a commitment to the values of volunteerism, the principles of international development and an understanding of the principles of the Treaty of Waitangi and bi- and multi-culturalism.
The role is based in Wellington at the VSA offices and will require travel around NZ from time to time. This is a truly great opportunity to work in a role which can directly help the VSA make a difference. We welcome your application by return email.
Applications close at 5pm on Sunday, 29 November.
If you are interested in the position please visit the People&Co website and for further information contact Michele Walls on (04) 931 9448 or Shawn Cornet on (04) 931 9461 quoting job number 19564.
To be eligible to apply you must have the legal right to live and work in New Zealand and meet any entry requirements if you're outside the country. For advice on obtaining a New Zealand work or residence visa and our entry requirements visit www.immigration.govt.nz